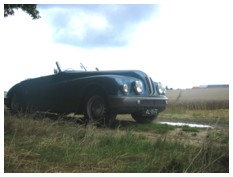 In the summer of 2005, we made a Tour-de-France. Not on the bicycle however, because Teb and me are of the lazy kind. Pedaling is nice, for half an hour or so, provide there is no uphill stretch to be done. But after that, forget it. On top of that, we had our little Anna, who is quite jumpy and thus not really the right character to attach to the backseat of your bicycle.
Still, we wanted to do something special, however, since we do it almost every year maybe it is not that special any more, but it still attracts everybody's attention: traveling with the Bristol. Teb calls it a "rubber-neck-car" which it truly is, as many people turn themselves 180 degrees while driving, to see if they can find a clue towards the brand of this car, which they usually cannot. I shiver with fear, seeing in my imagination the most horrible accidents, caused by the beauty of this car. Up to now, luckily that did not happen.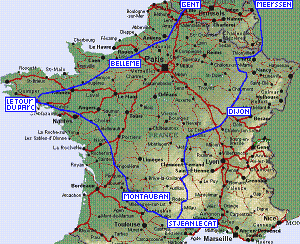 The car also has a good guardian angel.
The route we drove can be seen on the map to the left. Of course, this car does not drive all too fast, as it is 56 years old. Imagine somebody driving 130 kilometers an hour 56 years ago, that would have been a killer. Still, it easily reaches 100, but to keep the car in good shape, we avoided the highway as much as possible and enjoyed the French landscape.
We mostly took the roads that are colored yellow on the map, and sometimes even white ones. That meant we did not meet many people on their way, as most of the people nowadays take the fastest route towards their destination. For us, the traveling itself was the holiday so we were not in a hurry. And thus, we found the nicest and most quiet pick nick spots to swallow our foie-gras and champagne lunches (56 years ago, it was still allowed to drink a little and
drive). Sometimes, the car would stink of some old camembert, reaching the right temperature for consumption.
Even though the Bristol is a convertible, we drove most of the way with the hood closed. Anna was forever jumping on the backseat (a 56 year old car does not have any seatbelts) and we were afraid that she would jump out of the car. Poor me had a very stiff neck after so many kilometers, but that seems to be part of the fun. Anna loved the driving and even though she is only just two years old, within a few days she could distinguish an old-timer (Blistol!!!) from the usual cars (car!). That made her daddy naturally very proud.
We started our trip close to Maastricht, where we visited friends. From there, we drove straight to Dijon. Unfortunately, not that straight, since there was work on the road and we had to make a big d-tour. The French police, obviously aware of this d-tour and of the fact, that foreigners obviously did not know their way around it, caught us, just

crossing a white line. 90 Euro, mister! Since we had not that much money on us, we were squashed between to motor police, guiding us to the next village with a bank, which was at least 30 kilometers away. So we enjoyed more nice scenery of France and the friendly (?) French police, showing their true image to foreigners. That we managed to speak French did not help us, on the contrary.
As a result of this event, we arrived in Dijon when the evening was no more young. All restaurants were closed and we had to enjoy dinner with friends in our own hotel.
We stayed one night, enjoying a nice croissant, cafe-au-lait and patisserie and a walk through the city the next morning. Dijon is the capital of the department of Cote-d'Or and the region Burgundy. It is a very nice old city, apparently dating back from the Roman times when it was called Castrum Divionense. It has many

cathedrals and squares dating from long ago and a great atmosphere. And don't forget the food that originates from Dijon: the crème the cassis and the mustard, it is so strong that it make tears come into your eyes!
From there, we went southwards and crossed the Millau Viaduct, at this moment the tallest vehicular bridge in the world. For two years, we witnessed how the enormous pillars were built, and this year we could use it at last, which saved us a lot of time and offered us a great view. It is a real "golden gate of France", at least if you look at the investment they must have made. It was build by architect Sir Norman Foster, apparently a famous man. You must be if you are able to create a gigantic object like this! It goes across the valley of the river Tarn and stands on pillars of between 75 and 235 high. The highest point measures 341 meter from the ground, which makes it taller than the Eiffel tower and almost as tall as the Empire State Building.
From there onwards we drove through the beautiful fields, through tiny little villages, until we reached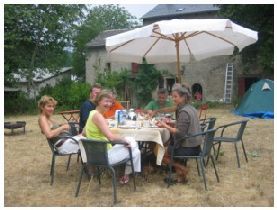 "St Pierre les Cats", where our friends own a house. Don't bother to look it up on any map, it is not there. It exists of 4 houses, a church and a graveyard, and some cows. We even almost missed it.
We stayed two days. No cultural things we had to see there, there is only nature, so just sit and relax.
On the way up, we passed through the city of Albi.
Albi is the capital of the department of Tarn and the river Tarn, the same river spanned by the large viaduct, goes straight through the heart
of the city. This city was also know in the Roman times, by the name of Albiga. Apparently the Romans were very fond of France, possibly it was the wine that lured them in. That is probably why Italy is now a very important wine country. Very beautiful are the Saint Cecile Basilica and the Pont Vieux, which you can see on the picture. More than one thousand years old and still alive with traffic. Henri de Toulouse Lautrec was born in the city, and there was an exhibition of his work going on.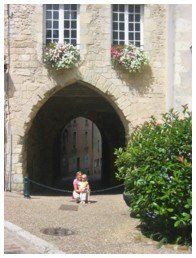 After Albi we went on to Montauban, which is the capital of department Tarn-et-Garonne. It is in the middle of a tourist area and this was the only area were we ended up in a traffic jam. Montauban dates back from the twelfth century. Apparently, in the 14th century it was ravaged by the Albigensians from Albi. After that it was ceded by the English, given back, inhabited by "normal" French for some time, and then again became an independent Huguenot republic in the 16th century.
Unfortunately, we did not have time to stay long as we were on our way to "Le Tour du Parc" in Bretagne, a nice little village on the coast. There, we got served the best fresh mussels we had ever tasted. Our host told us over dinner how he had caught them himself, that same afternoon. I would never have believed how much different the taste of a fresh mussel can be. And he also spoilt us with oysters. Imagine, coming from Bangladesh, you can hardly get a nicer treat!
As a result of quarrels between the cities Rennes and Nantes, the old duchy of Brittany was split up into 2 regions. Nantes used to be the capital and Rennes the seat of Parliament of Brittany. So now, part of Brittany has become Bretagne and a small part falls under the Pays-de-la-Loire.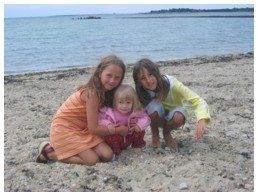 We spent some time on the beach but the weather would not cooperate so we just kept our coats on and made a walk. We made a trip with our host who owns an old Bentley and attracted more gazes than ever.
After that, we went to Belleme. What struck the eye most in this village, was a large golf course, but since Teb did not bring his clubs, we could not enjoy it. It was a nice old, medium sized village. We enjoyed a morning walk in the sun and stopped at a real estate agent, just to see what was available. As usual, we avoided serious decisions and just talked about how nice and cheap the houses were in this region. But we have not come any further in deciding even in which country we want to live. I fear that, if we are grey old pensionado's, we will still be traveling from place to place, in a car that suits our age best, trying food and wines everywhere and talking about how this place is even better than the last one.
Our last stop was in Gent, but as this city already belongs to Belgium, it will have to be covered in another page. Otherwise, the French might get aspirations.