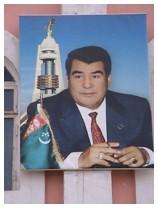 "Halk, Vatan, Turkmenbashy!" One country, one people, one Turkmenbashy (leader of the Turkmen). This line you can read all over Ashgabat, the capital of Turkmenistan. Also, there are life size posters and statues of Turkmenbashy on every street corner, and sometimes he is even facing himself. It is whispered that, after he dyed his hair black, all the posters had to be taken off the wall and redone. Mister Niyazov, the president who calls himself Turkmenbashy, apparently has a egocentric streak. Many cities and streets are named after him, making it difficult to find a place. Luckily he was chosen by 99.2% of population in 1992, so most of the people agree with what he does...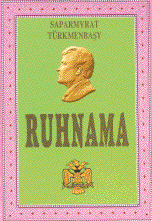 Recently, he has decided that he must spread his fame a little more. Are there still people who think they should read the Koran or the Bible for spiritual guidance? They are absolutely mistaken! Now there is Rukhnama, written by the great Turkmenbashy himself. Or, as he puts it: "It was authored by a truly prophetic man." Don't get it wrong, even though some people may think that reading this book suffices to give you entrance to this interesting country, nothing is less true. Even if you are a Turkmen by birth, it does not mean Turkmenbashy will acknowledge you as a compatriot. To be seen as a fellow Turkmen, eligible for things like government jobs, you have to be able to prove "three generations of pure Turkmen background".
Turkmenbashi has his ideas about art as well. All theatres were closed after he started to head the country. He thought that dancing, performing and theatre were a complete waste of time. Laughing is not advisable. People should spend their time on useful things, like working on the land, and, of course, reading his book. The only theatre that is allowed, is performed by the great man himself.
Their airline company is a form of art by itself, a horror spectacle. You can fly for almost nothing. When I was there, I flew for 2 dollar. But be sure to pray to the truly prophetic man during the whole journey, because a safe arrival does not automatically come with the cheap ticket.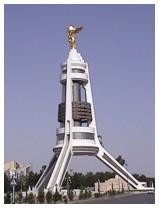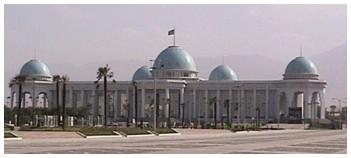 One of the famous statues in Ashgabat depicts a bull with a globe on its horns, and a golden baby on top. This symbolizes the fact that Turkmenbashy was rescued from the earthquake that his parents died in. The baby turns it face to the sun. On top of the 75 meters high Arch of Neutrality you can see a revolving golden statue of Turkmenbashy, who points out to the sun where it should come up and where it has to go under. The beautiful palace that Turkmenbashy lives in, forms a contrast with the houses in Ashgabat in general. He has let out the word that he would like to be president for his life time. As if anybody has any doubt about that!
Ashgabat in Arabic means city of love. It exists already for almost two thousand years ; in the first century BCE it was destroyed by an earthquake but revived because of trade with Silk Road travelers. Another earthquake devastated the city in 1948. Two-thirds of the population did not survive. The city was rebuilt after that and therefore looks quite modern. At 500 kilometer from Ashgabat lies Konye Urgench, the old capital of the Uzbek province Khorezm before Khiva. A lot has been destroyed here by Timur and Jenghiz Khan. The charm of the place is that the buildings are still in there old shape.